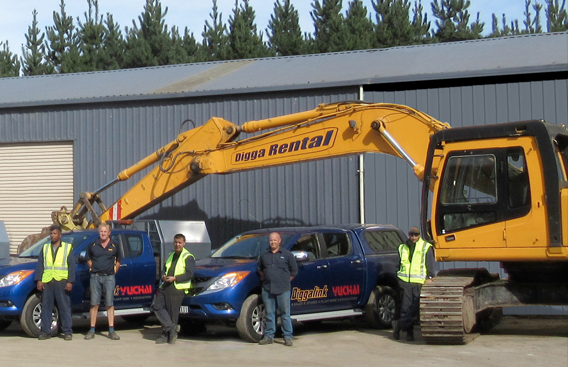 We are committed to providing good value quality products and services to all customers and have built a strong reputation over the years.
Diggalink extends the Giltrap family's involvement in excavation & contracting dating back more than 60 years. Giltrap Drainage was founded by John's father Robert Giltrap in 1953, and worked throughout New Zealand undertaking specialized rural land development, excavation, and agricultural drainage projects. John worked with his father from the late 1970's and directed and managed Giltrap Drainage from the late 1980's. He successfully moved the company into urban pipe and cable laying, trenching, rock sawing and silt dredging with barges.
Diggalink started in 2002 with John and his team buying, selling and servicing used excavators and a comprehensive range of used spare parts, and also secured the exclusive agency for new Yuchai Excavators.
Yuchai Excavators have been imported, sold, and supported throughout New Zealand since the early 2000's and have proven to be a very popular, cost effective range of excavators. The excavators use very common components and are supported well with spare parts and service through Diggalink and Yuchai Machinery, China.
We work very closely with all our suppliers to develop, improve and manufacture products specifically suited to our customers.
All have proved to be very receptive to technical input from New Zealand which has resulted in continuing improved performance in the products.
Diggalink supplies a full range of quality excavator attachments including buckets, rippers, thumbs, tilt buckets, root rakes.
Diggalink is headquartered in Canterbury, New Zealand – in the centre of the South Island, where we have a purpose built sales office and warehouse facility on State Highway 1 near Rolleston, 10 mins South of Christchurch.  The aim, says John, is to produce good quality heavy duty products, specified for tough conditions, and at an affordable price.
The entrepreneurial family oriented culture and team of Diggalink allows us to be competitive, flexible and well equipped to support all products we design and sell. We want our customers to have access to a good quality range of equipment, at the best prices available, with the vital, prompt in-house after sales service required, completing the package.